Traser Rubber Strap Camouflage 22mm Genuine
Sorry, this product is temporarily out of stock.
Genuine Traser Rubber Strap Camouflage 22mm 
Model 106630
This will fit the P96 Soldier and outdoor pioneer and any other 22mm end watch by Traser. 
Fits the P6600 series including Type 6 Mil G, Elite Red, Shade, Shadow, Sand and Automatic Pro and the New RED COMBAT.
Also This band will fit Traser Watches: P6504 Black Storm Pro, P6506 Commander, P6506 Commander 100, P6506 Commander 100 Pro, P6502 Navigator, P6508 Shadow, P6508 Code Blue, T4004 Classic Chrono BD Pro Blue, T4004 Classic Alarm BD Pro Blue.
This will fit most other brand watches that have a 22mm wide gap between the lugs. (Note if it does not fit a non traser brand we are not responsible).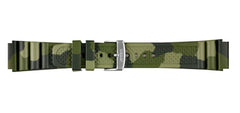 + CLICK IMAGE TO ZOOM