Traser Nato Strap 22mm Black 105721
 Traser Nato Strap 22mm Black 105721 GENUINE TRASER PRODUCT
NEW version which is made of thicker material for extra strength and now fits better with new pass through system.
This Traser Nato strap Black is an original authentic Nato strap by TRASER WATCHES.
It is the perfect addition to your Traser watch or any Military watch.
When fitted correctly the band passes through both watch pins and under the case of your watch, so if one pin fails the watch is still secured on your wrist and the watch is not lost. 
Fits the P6600 series including Type 6 Mil G, Elite Red, Shade, Shadow, Sand and Automatic Pro and the New RED COMBAT.
Also This band will fit Traser Watches: P6504 Black Storm Pro, P6506 Commander, P6506 Commander 100, P6506 Commander 100 Pro, P6502 Navigator, P6508 Shadow, P6508 Code Blue, T4004 Classic Chrono BD Pro Blue, T4004 Classic Alarm BD Pro Blue.
It may also fit other Traser Models not listed above so call us for assistance.
This is a 22MM Black nylon NATO Military Style Watch Strap. Made from the highest quality nylon material. It comes with a Stainless steel watch buckle, Size is 22mm wide and 26.5cms long. These fit all straight end watches that require a 22mm watch band. Used for Military and Diving, but also for everyday wear.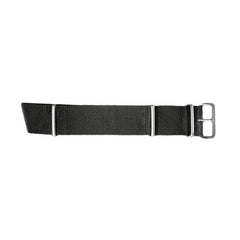 + CLICK IMAGE TO ZOOM