Spyderco Para Military 2 G-10 Camo Plain Black Blade
Spyderco-Para-Military-2-G-10-Camo-Plain BLACK Blade Model: C81GPCMOBK2
Para Military 2 - Model YS C81GPCMOBK2 (Camo - Plain Black Blade)

Premium CPM S30V blade is flat ground for strength and low-drag cutting
performance with a 14mm Trademark Round Hole for infallible one-handed
opening. In addition to the standard satin finish, a non-reflective black DLCcoated
blade is also available. The Para Military 2's blade is reinforced by a
high-strength Compression Lock™ that locks it securely open and allows it to
be closed one handed without placing your fingers in the path of the edge. Its
ergonomic handle is built on a framework of nested stainless steel liners and
textured black or digital camouflage G-10 scales.

Handle: 122 mm
Blade: 87 mm
Blade Steel: CPM S30V
Weight: 111g
Grind: Full-flat
Includes: 4 Position clip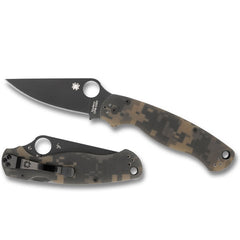 + CLICK IMAGE TO ZOOM