Led Lenser Magnetic Charging Cable for P7R,M7R,M7RX,X7R
STOCK AVAILABLE February, orders will go on backorder 
Led Lenser Magnetic Charging Cable for the P7R,M7R, M7RX, X7R

This Led Lenser Magnetic Charging Cable is for the Led Lenser P7R ,M7R, M7RX and the X7R

Note: this charger is the updated BLUE LIGHT version.
If your torch has the charging light ring on the torch with battery indicator then the ring will be red for charging and green when charged.
If your model is older like the P7R(gen1),M7R,M7RX or X7R then the blue light on the charger will stay blue even while charging...Dont worry it will charge your torch.
It comes with the magnetic connection USB cable as pictured.
If you need the wall power supply as well. it is available separately on this site CLICK HERE to buy power supply.
FOR ANY OTHER LED LENSER MODELS OR ACCESSORIES NOT LISTED ON THIS SITE THEN EMAIL OR CALL US.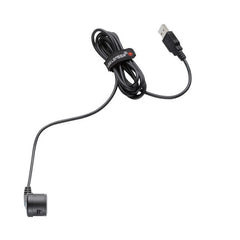 + CLICK IMAGE TO ZOOM