Gearzone Product: ATKA POCKET DROP (Drop sheet)
ATKA POCKET DROP (Drop Sheet) available in 2 sizes.
The Atka Pocket Drops are a durable, ultra-lightweight drop sheet earth barrier which folds down into a very small package for easy storage in your backpack, glove box  or pocket. Perfect for use on day hikes, at the beach, or any event where the ground may be a little damp, the Atka Pocket Drops feature weighted corners with eyelet rings (for securing to the ground if necessary) and an after use folding guide for quick and simple pack-up.
Available in two sizes (Small: 110cm x 70cm and Large:110cm x 140cm)
Large  $44
Small  $42
Note: price changes when added to cart for the size required.
Choose size from drop down list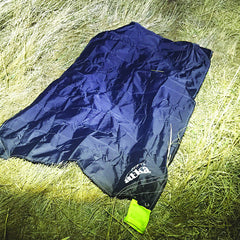 + CLICK IMAGE TO ZOOM